Meet our ASA Sailing Instructors
Paul Keever – School Owner
An entrepreneur at heart, born with a love of being in and on the water, moved from Long Beach, California, to the Florida Keys where he started a small resort renting cottages each with a free sailboat. Now, Paul shares his love of sailing and the Florida Keys through the American Sailing Academy. He deeply believes that if one teaches a person to sail, it will entertain their dreams for life.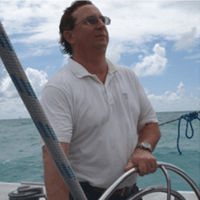 Captain "g" – School Director
Cap'n g has been sailing for over 40 years and spent over 20 years in the United States Coast Guard. Because of his skill, he was tapped to teach boat handling to Coast Guard members at the USCG Training Center in Cape May, NJ. Capping a long career in Intelligence and Law Enforcement, he was assigned as the Subject Matter Expert in criminal law, and also taught boarding procedures and defensive tactics at the Coast Guard's Maritime Law Enforcement Academy, where he attained Master Instructor Certification. Cap'n g was co-owner of East Carolina Sailing School in Washington, NC, at which time it was selected as ASA Outstanding School of the Year and he was named Outstanding Instructor of the Year.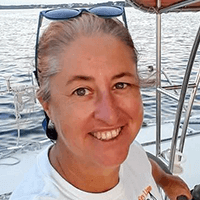 Captain Laurel – Lead Instructor
Captain Laurel has over 30 years of experience aboard sailboats. Besides her sail instructor certification, she holds a US Coast Guard captain's license for 100-ton Master with Auxiliary Sail endorsement. She grew up on a Herreshoff-design ketch sailing the waters off British Columbia and Washington State. She began teaching sailing on the west coast, and since then has sailed, raced, and done charters as deckhand, bosun, mate, and captain on several seas, along with being an instructor in ports from Maine to Florida.
Laurel has also worked aboard tall ships such as the schooner America, a replica of the 1850's America's Cup fame, the Western Union, a historic schooner out of Key West, and the Kaskelot in the film Count of Monte Cristo. Her teaching credentials include being an online instructor at the University of New Hampshire, Visiting Professor at Salem State University, and co-founder and instructor for the Seafaring Education and Maritime Archeological Heritage Program. Though happy imparting knowledge of marlinspike seamanship, and telling sailors' yarns, what she loves most is teaching sailing especially here on the warm waters of Florida!
Capt. Jerry has been sailing since 1965 from Long Island Sound to Key West, out to Bermuda, the Bahamas and the BVI's. His experience is as varied as the waters he has traveled. Some include dingy sailing, collegiate racing and blue water cruising. His sailing career as a USCG licensed Master (100GT) has included charters, teaching, deliveries and working on a 115' eco-education schooner. Jerry became an ASA instructor in 1998. His accomplishments include Outstanding Instructor of the Year 2012, instructor evaluator and new school site inspector. His previous career as a therapist gives him a very laid back approach to encourage students to develop the skills and confidence to grow as a sailor.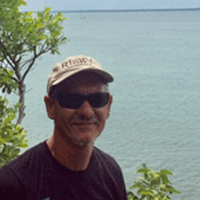 Capt. Barnard was born in South Africa where the diversity of the waters around this southern point of the continent made its impression, and a love of the sea, and a love of sailing came early. In the 70's he, along with his dad and brother built a hard chine 38' steel sloop which still sails the waters of the south east coast of Africa. After moving to the US in the 90's, racing in Lighthouse Point, the Keys, and St. Maarten honed his sailing skills, while the cruising grounds of Florida and the Bahamas fed the need to cruise and explore.
North Abaco became a favorite for this solo sailor because of its quiet isolation and natural beauty. When the opportunity arose, after 20 years in business with 10 years in an executive position, the choice was obvious. Want to go sailing? Combining the expertise of small business and over 30 years of sail experience makes for an instructor that can empathize with his student while directing their training. His philosophy is to enrich an individual by building a new skill set, through proper understanding of the theory and practice behind a specific way of life. Simply put, the love of sailing.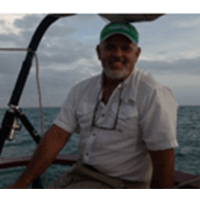 Captain Jorge began his maritime career in the United States Coast Guard where he was selected to serve on the prestigious Presidential Honor Guard and later in the areas of Search and Rescue and Maritime Law Enforcement. An experienced mariner with Towing, Sail, and Marine Radio endorsements, he has worked in commercial assistance as well as serving as a charter captain on pleasure and commercial vessels. Captain Jorge is fluent in English and Spanish and prides himself on attention to detail with his students.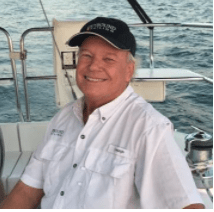 Captain Doran was born in Chicago, moved to Florida at an early age, and travelled the world as an Air Force brat. Captain Doran holds a USCG Master license with Sail and Towing endorsements. He spent three years cruising Central and South America on his Niagra 35. He has been an ASA Instructor since 2002 and has been a recipient of ASA's Outstanding Instructor of the Year award for the past four years running. He has completed over 100 deliveries between the Caribbean, Florida, and the Northeastern United States. Prior to his life as an instructor / licensed captain, he was the founder and for ten years, the publisher of Southwinds Magazine. During that period, he was also the sailing writer for the St. Petersburg Times and published in virtually every sailing publication in the US. He is a three-time Corsair F-27 National champion, the 2002 St. Petersburg NOOD Class winner in J/105 class and holds dozens of local, regional, and national regatta championships including the St. Peterburg to Havana race. He says sailing is his life, his passion.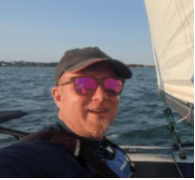 Growing up in the foothills of the Appalachians, Captain John always yearned to be closer to the sea. While attending graduate school in Hong Kong, he fell in love with sailing the waters there and has pursued sailing as a passion ever since. A global citizen at heart, he has spent most of his adult life overseas, primarily in Asia. Capt. John uses his experience across languages and cultures to help bring to life the joys and skills of sailing for his students. He has taught at multiple universities around the world and specializes in areas of culture, communication, and international relations. He built and developed the Sailing Club Team at Coastal Carolina University as well as credit-bearing sailing courses for the University. Captain John is an ASA instructor and USCG licensed captain. He enjoys both the thrill of small boat sailing and the complexity and teamwork required to sail larger boats. His passion for culture, history, and adventure dovetail to his love of sailing and instruction. Captain John is a native English speaker and speaks Mandarin Chinese. He prides himself on being able to connect with students from any background or culture.